---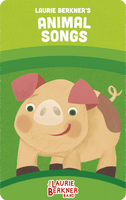 Yoto says: Sing; dance and play along with these songs about animals and the fun times they have.
Rock along with award-winning children's music artist Laurie Berkner and her band. In this album, you'll meet a mouse in a toolbox, go swimming with a goldfish, dance with dinosaurs and buzz like a bumblebee!

Laurie says: "I find animals incredibly fun to sing about. Perhaps it's because I love making animal noises! Here is a collection of songs about all different kinds of animals – from bugs to baby rhinos, and dragons to dogs to dinosaurs. Have fun acting them out together!"

Laurie Berkner has sold over 1.1 million albums since her start in 1992. With 10 award-winning albums, critics widely acknowledge Laurie's major contribution to launching what is now dubbed the progressive "kindie rock" movement.
Laurie Berkner Animal Songs:
Bumblebee (Buzz Buzz)
The GoldfishI Know A Chicken
Mouse In My Toolbox
Pig On Her Head
Party Day
Last Night I Had A Dream
Mister
We Are The Dinosaurs
Lots Of Little Pigs
Fireflies
Do The Dragon
Farm Song (That's What I Did On The Farm)
Goodnight
Although this Yoto Card is perfect for young children, children under 3 years old should only use Yoto Player or Yoto Mini under adult supervision.